HADLEY SHOW ANNOUNCEMENT WITH MATT STELL
HADLEY TO OPEN FOR COUNTRY STAR MATT STELL
AT #BELIKEGRACE FOUNDATION CONCERT
 
NASHVILLE, Tenn. (August 29, 2023) – Multi award winning country recording artist HADLEY made an appearance on Monday performing MISSED YOUR CALL on the NBC 11Alive lifestyles and entertainment show Atlanta & Co with host Cara Kneer. During the interview it was announced that HADLEY would be opening for country artist MATT STELL, Saturday October 14, at the Oakley Lindsay Center, Quincy, IL for the #BELIKEGRACE Foundation. Also in the lineup are local Quincy sensations BLACKTOP SOUTH. 
#BeLikeGrace was started by Holly Schell after her daughter Grace was tragically killed in an ATV accident October 4, 2020. Holly quickly discovered that people that she never knew began coming to her reflecting stories on how wonderful Grace was and this started to happen all the time. The message that Grace lived was to be kind, show love and compassion, respect everyone and become the best version of yourself. This theme took off in a very short period of time with millions using the hashtag #belikegrace.  
 To date the foundation has raised money for kindness projects and helping people in need. Every year Holly organizes several events to raise money for the foundation to celebrate the memory of her daughter and the legacy she left. Tickets for the event are $25 general admission and $40 for VIP which includes a meet & greet with the artists. For ticketing information visit www.belikegrace.com. 
  
 TICKETS CAN BE PURCHASED HERE!! HURRY AND GET YOURS
, THESE ARE GOING FAST AND PRICE INCREASES OCTOBER 1, 2023!
 For more information, go to: https://www.belikegrace.com 
About #BeLikeGrace 
Be the best version of yourself. Brighten someone's day with a smile. Be generous. 
Tell someone you love them. Say hello to brighten someone's day. 
Be kind. Spread compassion to the world. What does the #belikegrace movement really mean? 
By using the #belikegrace hashtag on social media you are helping to share Grace's legacy with so many people that may be looking for kindness and hope. Grace wanted nothing more than to spread joy, happiness, kindness, and positivity throughout the world and with her beautiful smile and happy spirit she did just that. When you post on a positive, kind, joyful message on social media, use the #belikegrace hashtag to continue to share the movement. The mission is to spread Kindness to those who need it. 100% of all funds donated to the #belikegrace Scholarship and Community outreach Foundation goes right back into the communities around us. We focus our attention of several causes; Helping families who have lost children pay for funeral and medical expenses, College and trade school scholarships for graduating seniors, funding for school projects or events, supporting local running programs, Giving monetary and emotional support to families in need, and spreading simple acts to those around us. When you donate to the #belikegrace Scholarship and Community outreach Foundation you can be assured that where kindness, compassion, and generosity are needed we will be there. we are simply trying to spread the love we have for Grace to those around us and make an impact in their lives. 
The Latest
HADLEY RECEIVES HIGHEST HONOR AT 5th Annual ISSA Awards 
NASHVILLE, Tenn. (August 7, 2023) – Multi award nominated country recording artist HADLEY has won the highest honor in her category at the 5th annual International Singer Songwriters Association Awards (ISSA) for her massive hit, 'TRUST ISSUES.' 
In ceremonies that were held at the site of the BMI awards Buyer's theatre in beautiful Atlanta, Georgia on Saturday, HADLEY was announced as the Gold level winner of Single of the Year for 'TRUST ISSUES.' The competition has different award tiers, Gold, Silver and Bronze, so it is possible for an artist to have three chances to win in each categoric level. During her acceptance speech she received a glass statuette as she  choked up thanking her parents who sacrificed everything to get her where she is today. 
She shared from the podium: "Ok, wow I definitely said I wasn't going to cry, but I just want to thank first of all, my parents for always supporting me…they've always been there for me…the rest of my family all of my friends I Iove you so much. I 'am very honored to be in this room with everyone. Everyone is so talented and so supportive of each other which is unfortunately rare in this business in this industry and everyone here has been nothing but kind and I just want to say thank you. I am very lucky, I want to thank my manager Shannon, my producer Matt Geroux, all my people who helped me write this song, thank you." 
HADLEY now joins the elite panel of judges for next year's competition which includes free admittance to all award events. 
 This is the 5th year for the international independent music artist organization which celebrates the best of the best every year throughout the world known as ISSA helmed by Tamanie Dove, who is a very talented artist herself. Judges are unique in this music talent competition as they are the previous year's artist gold level winners who return to judge their peers the following year after their win. The 5th annual ISSA Awards will be broadcast on the official ISSA Roku channel in September. 
About International Singer Songwriters Association (ISSA) 
The International Singer Songwriters Association was founded by Tamanie Dove, a singer songwriter born and raised in Nashville, now residing in Atlanta who is dedicated to supporting and serving independent artists and encouraging aspiring and professional singers and songwriters in all genres of music worldwide. 
Latest release
Hadley on Song Inspiration
"This song hit me because it's how I feel about my step dad when I'm too busy to pick up the phone when he calls and I have every excuse in the book not to, and you know one day that phone call isn't going to come, that call to just check up on me. Right then and there I said I'm going to take the time to enjoy my family and I never want to be too busy for them."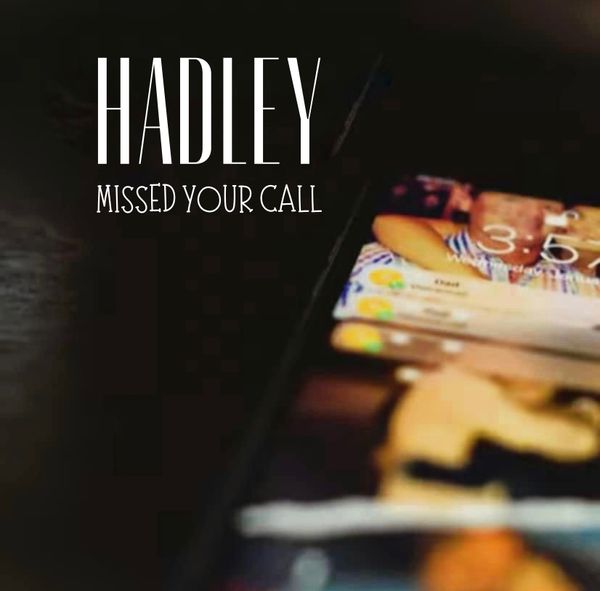 DO YOU WANT TO BE AN OFFICIAL HADDICT?!!
Socials Life (Scroll for More)